Andalusia by bike from Malaga to Seville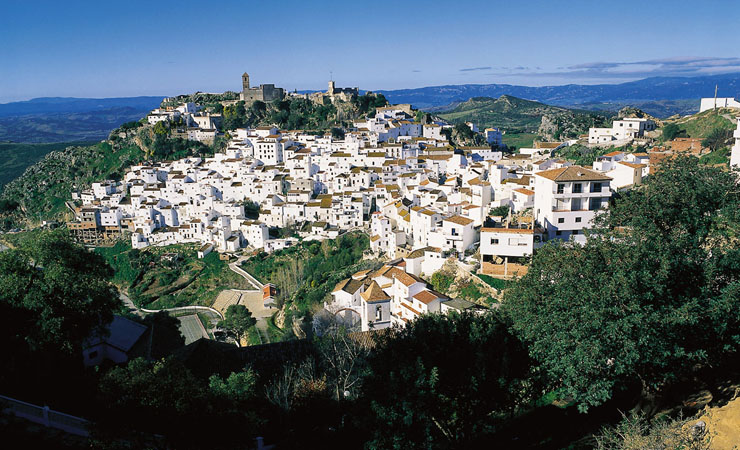 andalousia © eurobike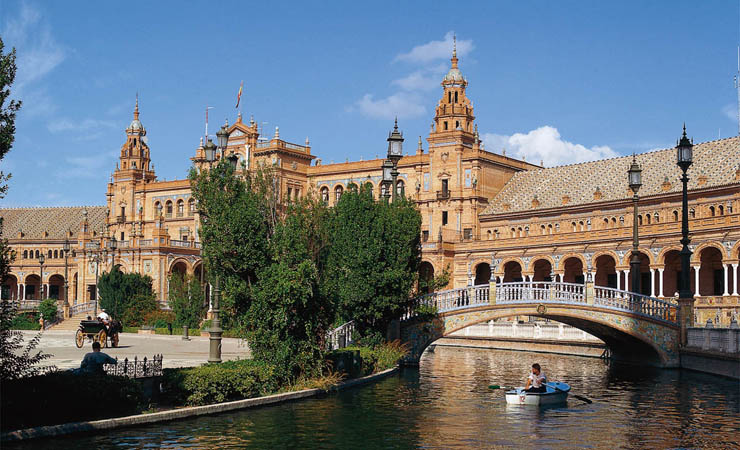 seville-plaza-de-espana © eurobike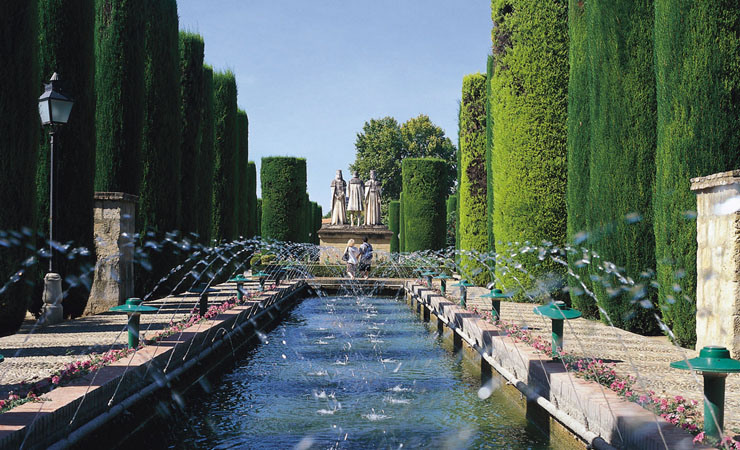 Cordoba © eurobike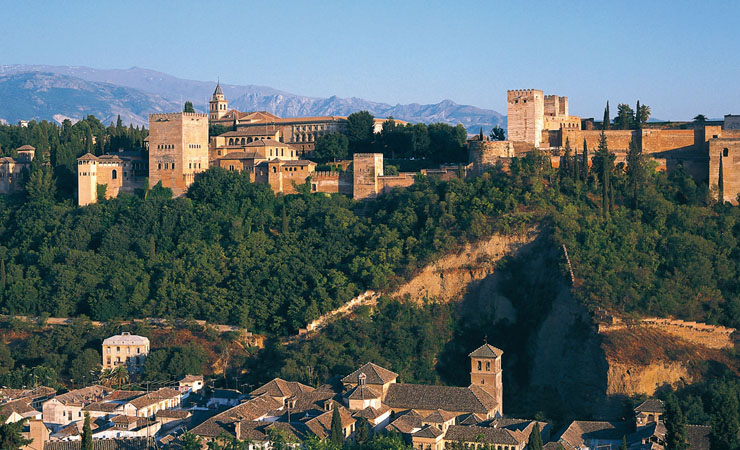 grenada © eurobike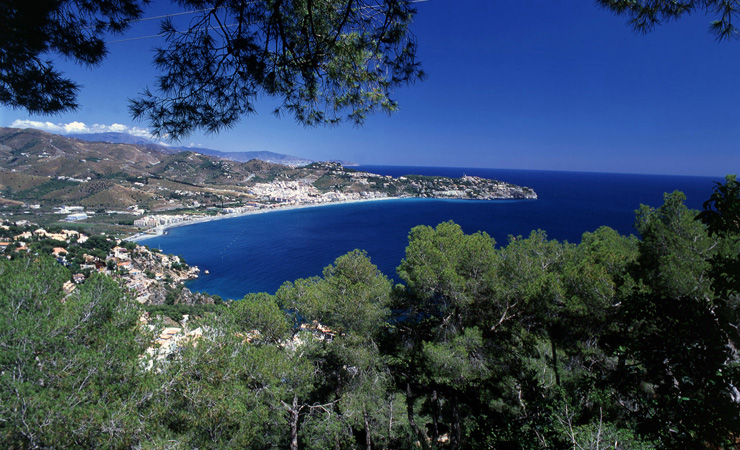 andalousia © eurobike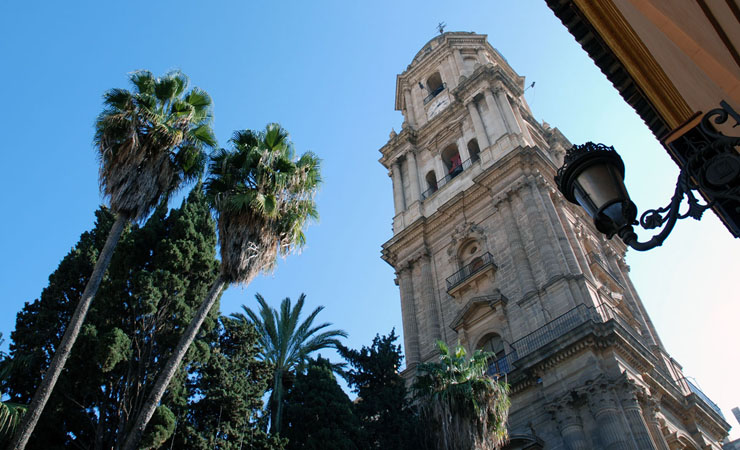 malaga © eurobike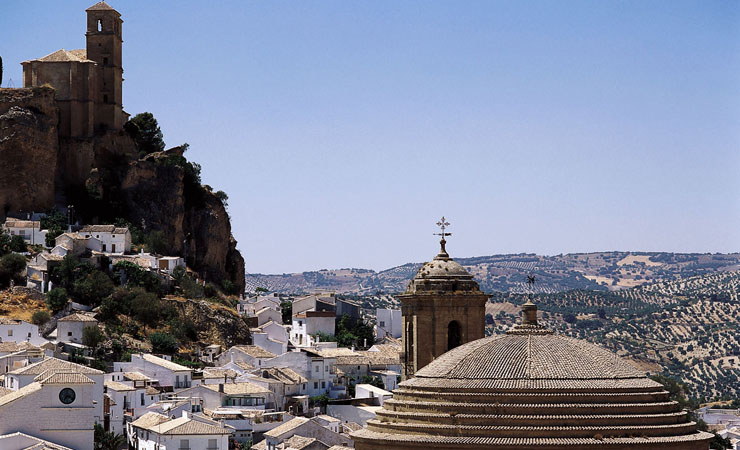 grenada © eurobike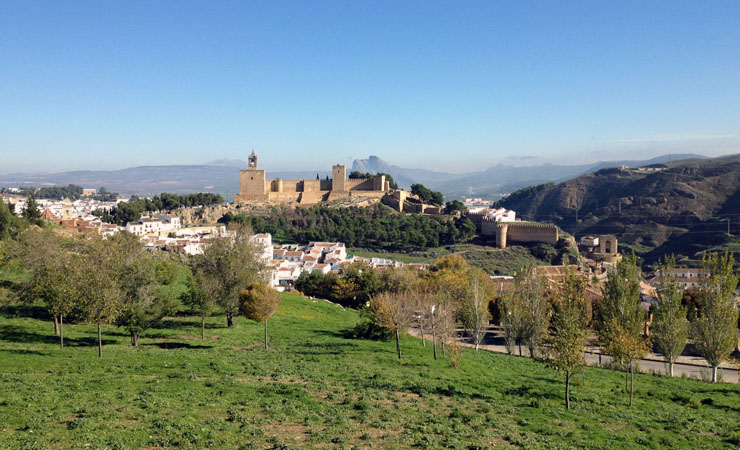 antequera © eurobike
Previous
Next
Tour highlightsmap
The coastal town, Malaga with its lovely promenade
The world famous Alhambra
Views of the soft hills with olive trees
Carmona, the Moorish town
from 1 215 € / pers.
(on the minimum basis of 2 pers.)
Reference : ESP2
9 days
/ 6 days riding
Difficulty :
Moderate
Linear tripFrom March to October 2019Departure:
Saturday
Electric bike rental possible
> Book this trip
Some questions about this trip ?
Contact us +33(0)2 54 78 62 52 or by email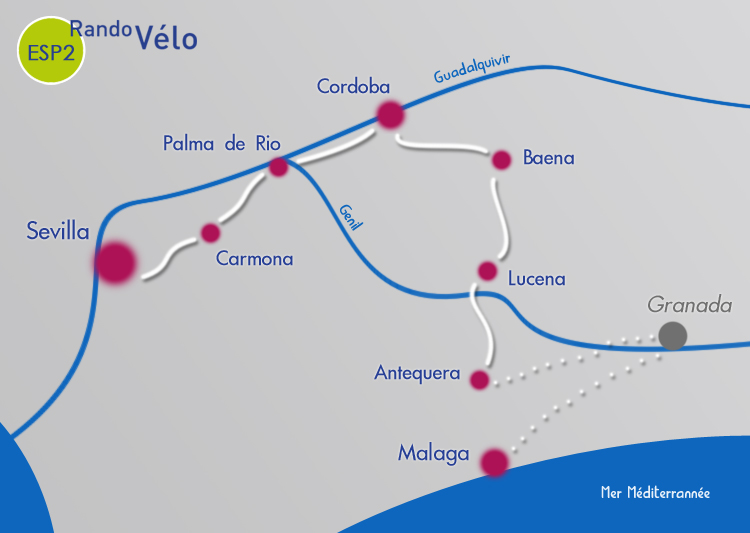 > Download tour program
Your cycling trip in Andalusia:
Andalusia is a paradise full of surprises. Hardly any other landscape evokes such fascinating pictures as the southernmost region of Spain: a Flamenco dancer in a flowing red dress, white villages on hills, Moorish palaces, and gloriously dressed bullfighters in crowded arenas. Experience an incomparable conglomeration of European and Arabic culture, scenic beauty harmonized perfectly with masterful architecture: today's Andalusia combines modernity with a rich tradition.
We will guide you on well-developed routes and small roads without much traffic through lush overgrown hills, green river valleys and the wild landscape of the Sierras. You will visit Seville and Cordoba, the metropolises of the spiritual life in Moorish Andalusia. In the narrow streets, in the markets, in the buildings of the Alhambra, the Real Alcazar, and the Mezquita you will travel through time and dream about days gone by, in which Andalusian scholars brought light to the darkness of the European Middle Ages. So, come, eat and drink: cervezas, tapas, wine, and jamon iberico. Andalusia is awaiting you!
Day 1 : Arrival in Malaga
Malaga is a bustling port city by the clear blue Mediterranean Sea It is characterised by historical treasures as well as beautiful beaches. Picasso's traces run through the entire city to the famous Picasso Museum. Furthermore, the imposing cathedral, the Moorish Alcazaba fortress and the Gibralfaro castle are waiting to be discovered. The old town, the Moorish castle, and cathedral testify to the former prosperity of the city.
Day 2 : Trip by Bus to Granada (visit to the Alhambra) then to Antequera
In the morning, bus transfer (2h) will to the beautiful city of Granada. Here you will have a guided visit of the most important historical monument of Andalusia with Arab influences: the fabulous Alhambra (the red castle) has existed since the 9th century and it used to be a fortress in earlier times.
In the evening, you will get to  the historic city of Antequera with its collection of red tiled roofs and 30 steeples.
Day 3 : Antequera – Lucena | 65 km
The bike tour will begin with a ride on the old railway line through the beautiful countryside to Lucena. In one of the most important olive oil-producing regions of the world, the famous oil is pressed in the mills.
Day 4 : Lucena – Baena | 35 km
You will continue your journey along the old railway line passing vast olive groves to Baena. The inhabitants of Baena live mainly off of agriculture and are very tradition-conscious people. This is also reflected in the townscape of Baena, which is located on a hill. It is characterized by narrow streets that wind their way through the old town and where you can find interesting religious buildings such as the Church of Santa Maria la Mayor from the 16th century or the old castle.
Day 5 : Baena – Cordoue | 55 km
The Sierra Morena, with its foothills, frames the former European Capital of Culture. This romantic area is surrounded by pine forests and an impressive solitude. On the route towards Cordoba you will pass farms, which specialize in the breeding of fighting bulls and enjoy a special reputation in Andalusia.
In the evening, you will get the possibility to participate in a city tour and see the witnesses of the dazzling cosmopolitan past.
Day 6 : Cordoue – Palma del Rio | 55 km
In the wide valley of the Guadalquivir, you will leave Cordoba on an old Roman connecting road. Ecija is the capital of horse breeding. Renowned stud farms are characterised mainly by their Andalusian horses (local thoroughbreds), Arabian horses, and English hot bloods.
Day 7 : Palma del Rio – Carmona | 65 km
Marchena, a typical country town of Campiña, lies on a hill overlooking the Rio Carbones. You will continue your tour through the Campiña of Seville, a gently rolling landscape of fertile farmland. Occasionally, you will come across underground-fed inland lagoons, small Mediterranean oak forests and rugged karst formations in the landscape. Carmona is a city that hasn't changed for 150 years, it has Baroque palaces, churches and monasteries and is surrounded by intact Moorish town walls.
Day 8 : Carmona – Séville | 30 km
Today, you will cycle over the gently rolling plateau of Alcores to one of the most fertile agricultural areas in Andalusia. Alcalá de Guadaira is considered to be one of the cradles of flamenco. Former haciendas of the Kingdom of Seville, today just as large farms as in former times, line the road. Our destination is Seville! Two international exhibitions helped the city to futuristic buildings and great green parks.
In the evening we suggest a visit to the largest Gothic cathedral in the world, the Barrio Santa Cruz and the Casa de Pilatos.
Day 9 : Departure during the day
Select your category
standard category
Reference: ESP2 STD
Low season
from March 30th to April 12th 2019
from October 6th to 26th 2019
Departure: Saturday
2 persons basis :
(price per person)
* Single supplement
1 215 €
/ pers.
340 €

/ pers.

*
Mid season
from April 27th to June 8th 2019
from September 14th to October 5th 2019
Departure: Saturday
2 persons basis :
(price per person)
* Single supplement
1 350 €
/ pers.
340 €

/ pers.

*
High season
from April 13th to 26th 2019
Departure: Saturday
2 persons basis :
(price per person)
* Single supplement
1 430 €
/ pers.
340 €

/ pers.

*
Category's details
Including :
• 8 nights in 3-star and 4-star cat. hotels, with breakfasts (accommodation in a two-person bedroom)
• Luggage transport during the bike stages
• Equipped cycle rental for 6 days (rental bike insurance)
• Bus transfer to Granada to the Alhambra incling admission fee and (English or German) guided tour
• Train journey from Brenes – Seville
• Excursion by sightseeing bus in Seville
• City tour in Cordoba (in English or German)
• 1 travel folder (per room) including colour maps, detailed route directions in French or English and tourist brochures
• Hotline 7 days a week
•
Not including :
• Dinners / Lunches / Drinks
• Tickets to attractions, tours of attractions, tasting
• Optional insurances (Cancellation Insurance OR Tranquility Insurance)
• Single room supplement (8 nights included)
• City taxes
• Transfer from Séville to Malaga and personal bike repatriation
'Bike extra' & various
• Bike discount
If you bring your own bike.
-90 € / pers.
• E-bike supplement

+ 145 € / pers.
According to the category
(price per person)
standard category
Reference: ESP2 STD
Your cycle hire
KTM hybrid bike - 21 speed gears
Man or Lady frame
1 rear pannier (saddlebag)
1 front pannier
1 repair kit
1 pump
1 lock
Helmets are not provided.
We suggest to bring yours.
Possibility to rent an electric assistance bike :
PEDELEC e-bike
E-bike
Universal frame
1 rear pannier (saddlebag)
1 front pannier
1 repair kit
1 pump
1 lock
Practical details
Bikes will be delivered at the 1st hotel.
At the end of the tour, leave the rental bikes at your hotel, we will pick them up.
> Tour validity
> Your journey
> How to arrive in Malaga
> Return
Tour validity
This cycling tour is not available from June 3rd to September 7th due to high temperatures.
Your journey
The bike routes are alternately flat and hilly. You will cycle on bike paths (former railway lines) and side roads. In some cases, you will find yourself on roads with more traffic, especially when entering or leaving a city.
How to arrive in Malaga
> By train :
Malaga train station.
> By plane :
Malaga or Seville airport.
Return
> If you have to come back to the start point:
A return transfer by train is possible and organised on your own.
Plan to go to the train station with your luggage (and your potential own bike).
(Personal bike return costs are on your responsibility.)
– Seville train station >> Malaga train station