Dordogne bike tour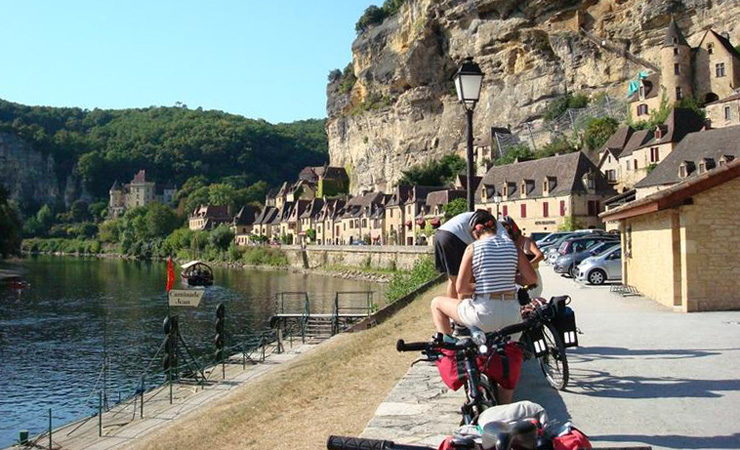 La Roque Gageac © Jean Micol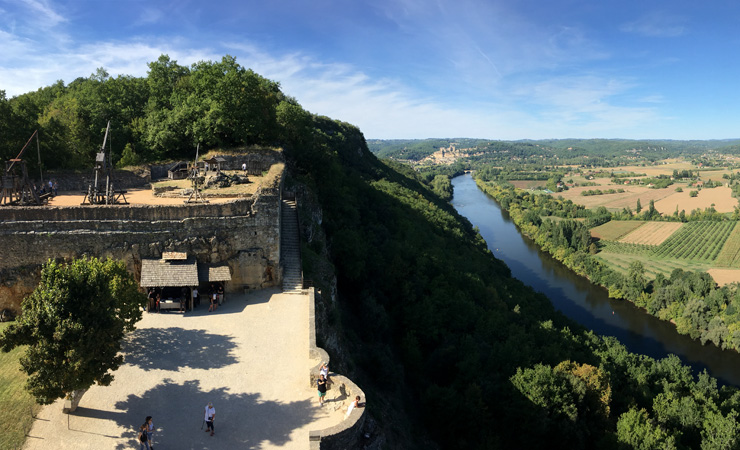 View over the Dordogne river and Château de Beynac © RandoVélo
Rocamadour © pixabay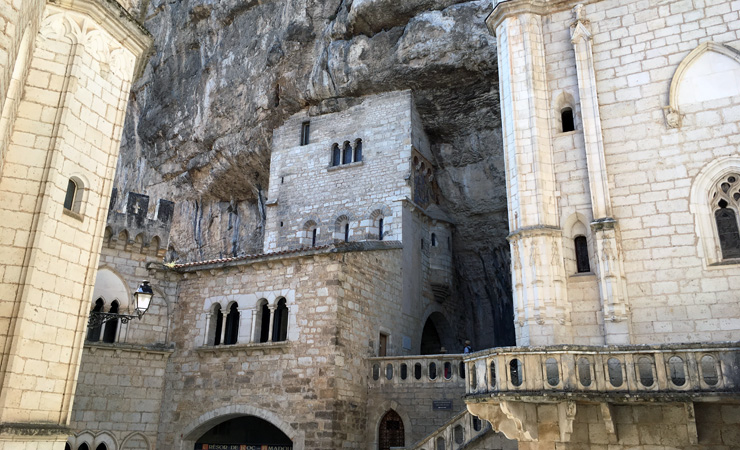 Rocamadour sanctuary © RandoVélo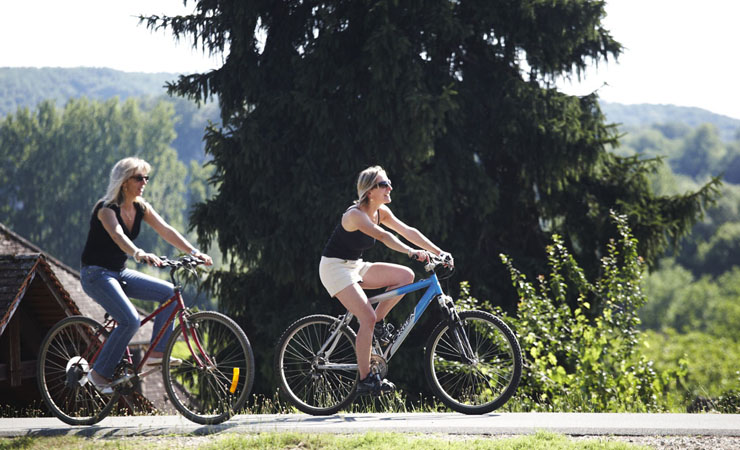 cycling path © Mathieu Anglada – OT Sarlat Périgord Noir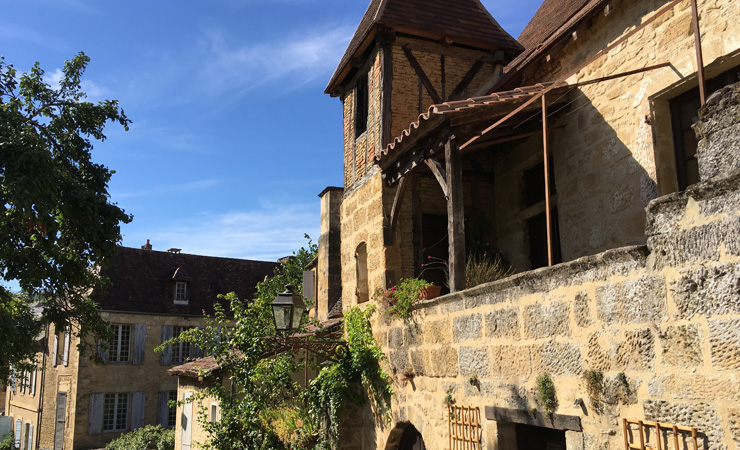 Sarlat © RandoVélo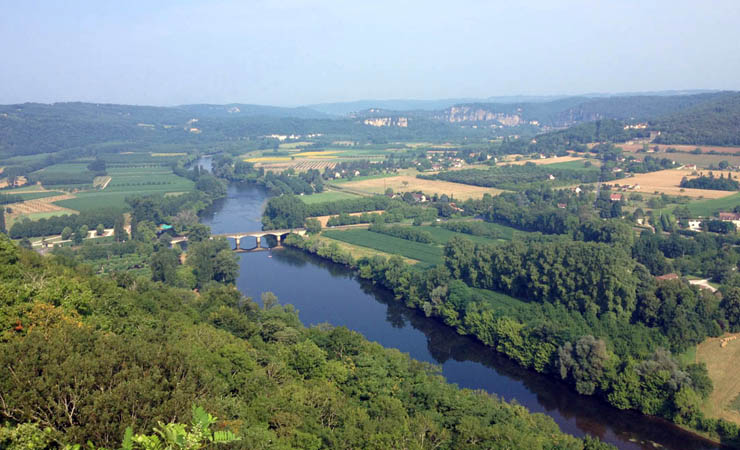 Dordogne river © RandoVélo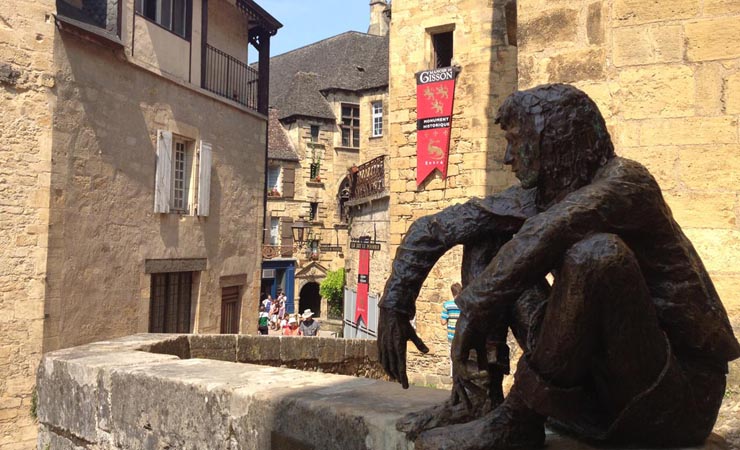 Sarlat © RandoVélo
geese farming © RandoVélo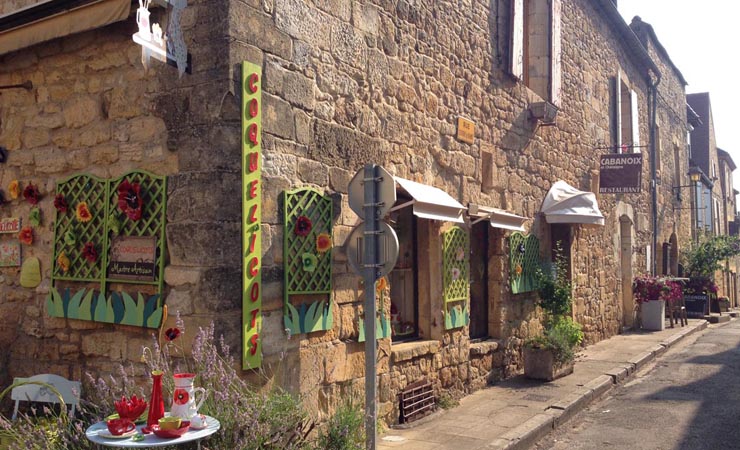 Domme medieval village © RandoVélo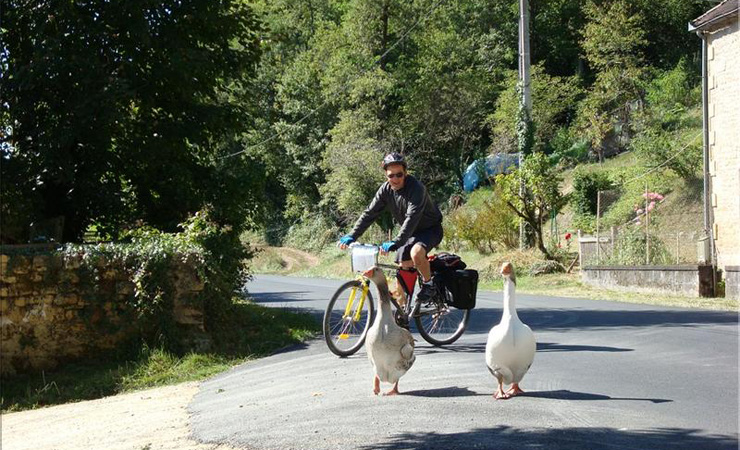 meeting with the geese © Jean Micol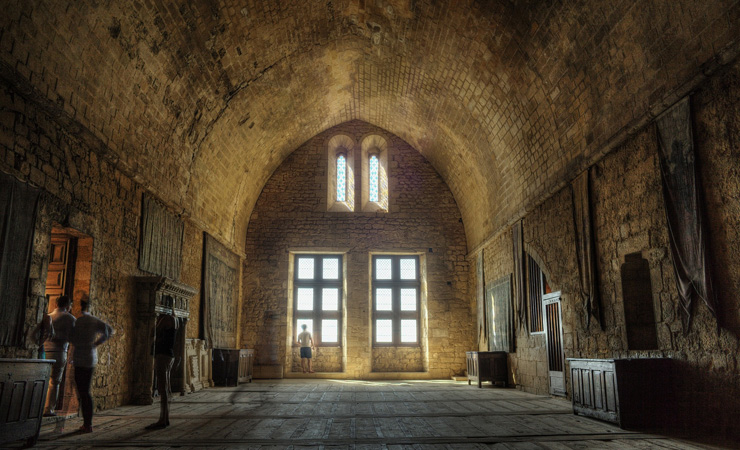 chateau de Beynac © pixabay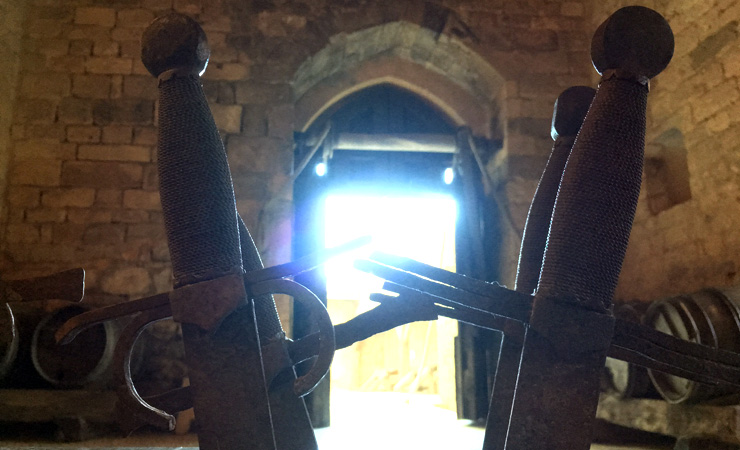 chateau de Beynac © RandoVélo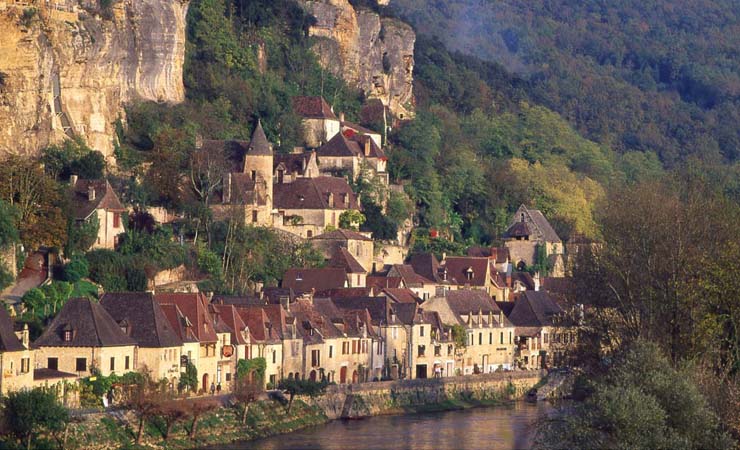 La Roque Gageac © Dominique Repérant – OT Sarlat Périgord Noir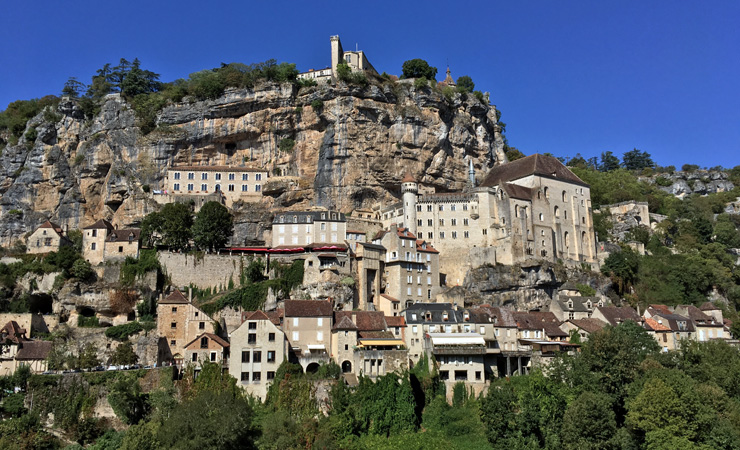 Rocamadour © RandoVélo
Previous
Next
Tour highlightsmap
Rocamadour: the sacred city is clinged to the cliff
The wealthy landscapes of the Dordogne and Vézère Valley
Sarlat and its typical medieval lanes
from 790 € / pers.
(on the minimum basis of 4 pers.)
Reference : DO1
7 days
/ 6 days riding
Difficulty :
Sustained
Round tripFrom March to November 2019Departure:
daily
Electric bike rental possible
> Book this trip
Some questions about this trip ?
Contact us +33(0)2 54 78 62 52 or by email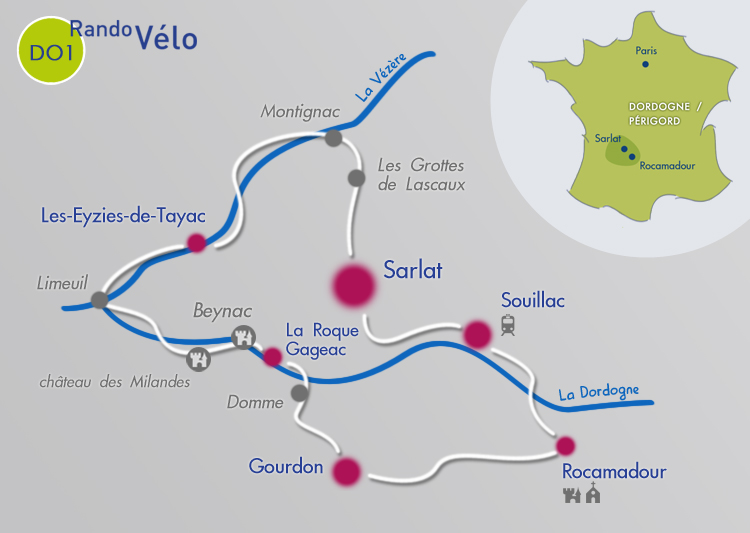 Your cycling tour in Perigord:
An escapade alongside majestic rivers to discover Quercy and its way of life, the fabulous town of Rocamadour built into the Cliffside and the black Perigord (Périgord noir) area with its beautiful landscapes.
Travel along the deeply embanked Dordogne and Vézère rivers and their numerous castles that line this historical route.
Day 1 : Arrival in Souillac
Don't miss a visit to the 7th century Benedictine Monastery built by St Eloi and its magnificent abbey church.
Day 2 : Souillac - Rocamadour | 21 km or 28 km
An itinerary along the Ouysse Valley. The many visits include Rocamadour which used to be one of the most famous Christian pilgrimage destinations. Make the most of the fabulous panoramic views offered by the Belvederes.
Day 3 : Rocamadour - Gourdon | 33 km
A ride through forest and hills in the Regional Nature Park called "The Causse du Quercy" with the possibility to visit the charming little church "Notre Dame des Neiges" before reaching the medieval city of Gourdon.
Day 4 : Gourdon - La Roque Gageac | 26 km
Leaving the Cougnac grottos, ride to the Dordogne Valley to discover a wide range of castles and fortified towns overlooking the river, as well as the superb village of Domme. Stop in La Roque Gageac, a magnificent old river harbour pressed up against the cliff.
Day 5 : La Roque Gageac - Les Eyzies | 30 km or 54 km
A magical ride along the meandering Dordogne river leads to the unforgettable Château de Beynac, the "sublime point of the valley", perched on a rocky peak, or to the typical village of Limeuil. You also have the possibility of discovering the Proumeyssac chasm, one of the deepest chasms in Europe.
Day 6 : Les Eyzies - Sarlat | 26 km or 54 km
On the long version of this stage, from Les Eyzies nicknamed "Prehistory capital", you will enjoy the beautiful landscape up to Montignac in order to visit the well known Lascaux grottos which are one of the most important prehistoric sites thanks to their numerous prehistorical paintings and caves.
Incursion in the Sarladais country to join the famous medieval town of Sarlat. This city is also well known by gourmets for its delicious local products, such as duck 'foie gras', truffles and its market where you can smell, taste and discover all these treasures.
Day 7 : Sarlat - Souillac | 31 km
A day ride on a former railway track transformed into a long and very pleasant cycling path. Way back to Souillac along the banks of the Dordogne river overlooked by the Chateau de Fenelon, a chateau from the 15th century covered with Lauzes (stone rooffing) settled in a green and quiet scenery.
Departure at the end of the stage.
Possibility to book an extra night in Souillac.
Select your category
standard category
Reference: DO1 STD
Low season
from March 1st to April 30th 2019
from November 1st to 30th 2019
Departure: daily
2 persons basis :
(price per person)
4 persons basis :
(price per person)
Single supplement
High season
from May 1st to October 31st 2019
Departure: daily
2 persons basis :
(price per person)
4 persons basis :
(price per person)
Single supplement
Children discount :
from 0 to 2 years old :
free /
from 3 to 11 years old :
- 50% /
from 12 to 17 years old :
- 20%
(Only if the triple or quadruple rooms are occupied by 2 adults minimum )
Your cycle hire
ORBEA Hybrid bike - 27 speed gears
Man or Lady frame
2 rear panniers (saddlebags)
1 life jacket
1 repair kit
1 map holder
1 pump
1 lock
1 helmet
Possibility to rent an electric assistance bike :
BH EASY MOTION e-bike
E-bike
Universal frame
2 rear panniers (saddlebags)
1 handlebar bag with a map holder
1 water bottle holder
1 life jacket
1 repair kit
1 pump
1 lock
1 helmet
Practical details
Bikes will be delivered at the 1st hotel.
At the end of the tour, leave the rental bikes at your hotel, we will pick them up.
> Your journey
> How to arrive in Souillac
> Return
Your journey
Tour description:
Roads with little traffic and some cycling paths around Sarlat.
GPX files:
Besides the maps and detailed itinerary, we can provide on request the GPX files of your bike stages, as well as a suggestion of free mobile application.
How to arrive in Souillac
Return
If you have to return to Paris (city centre) / Paris Airports :
This return can be carry out by RandoVelo/Biking France: please contact us!
A return transfer by train is possible and organised on your own. Please visit: www.sncf.com/en
Plan to go to the train station with your luggage (and your potential own bike)
(Personal bike eturn costs are on your responsibility)
– Souillac train station >> Paris Austerlitz train station (train station).

Trip overall rating : / 8 testimonials
Susan
USA
travel date: 25 April 2018.
" Fantastic trip!! "
The scenery and towns were beautiful. Overall, it was just the right amount of support for us. Thanks!
Sarah
Australia
travel date: 02 June 2017.
" We were very happy with the professionalism and high degree of organization on our tour. "
Many thanks to Rando Velo / Biking France for an enjoyable week cycling in the Dordogne. My wife and I are not 'serious' cyclists but we enjoyed the level of challenge, the quiet roads you found and the great 2 and 3-star accommodation and food you selected. The scenery was as pretty as a postcard! We look forward to future travel organised by your team
Annabel
New Zealand
travel date: 20 September 2016.
" Wonderful trip "
This is a wonderful week of beautiful scenery,quiet country roads,lovely hotels and great food. Recommended!
Florence
France
travel date: 18 August 2016.
" Tout était parfait "
Une semaine de rêve en famille où tout était parfait; des circuits en passant par les hôtels , les repas et l'accueil !
Daniel
France
travel date: 21 August 2016.
" Bonne organisation "
Organisation sans faille circuits bien pensés hôtels bien situes
Marc
Belgique
travel date: 02 August 2016.
" Merci "
Excellent compromis entre une organisation sans faille et toute la poésie de l'itinérance, à prix juste.
Mark
Canada
travel date: 02 July 2016.
" Thanks again "
We are back from the trip and can't thank you enough for organizing everything for us. Everything went perfectly, amazing country to ride through and the food especially was unbelievable. The hotel meal in Gourdon was probably the best meal any of us have ever had and will be talking about it for a long time. The weather was a little on the hot side so the swims in the river were much appreciated.
Josep
Spain
travel date: 20 April 2012.
" I recommend "
Yesterday I came back home after a week riding in Dordogne. It was a very good week and I really enjoyed everything…landscapes, hotels, food, wine, etc. … Everything was very well organised. Thank you so much to all Rando-Velo team. For sure, we'll recommend such experience to our customers and friends