Autria by bike, from Innsbruck to Vienna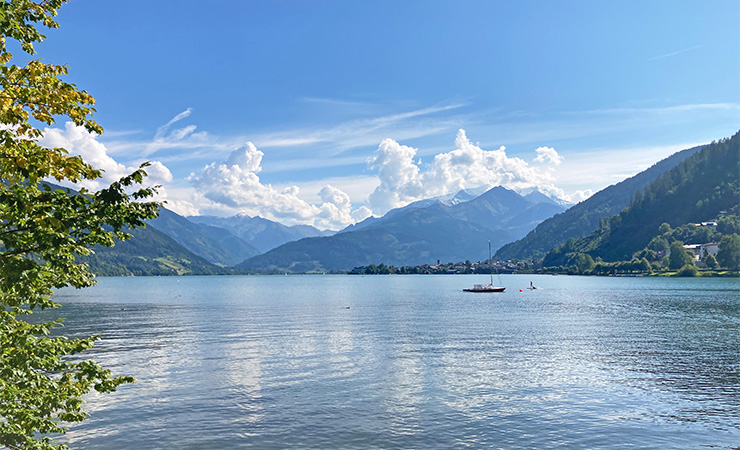 Innsbruck- Wien / Zeller-see © Eurobike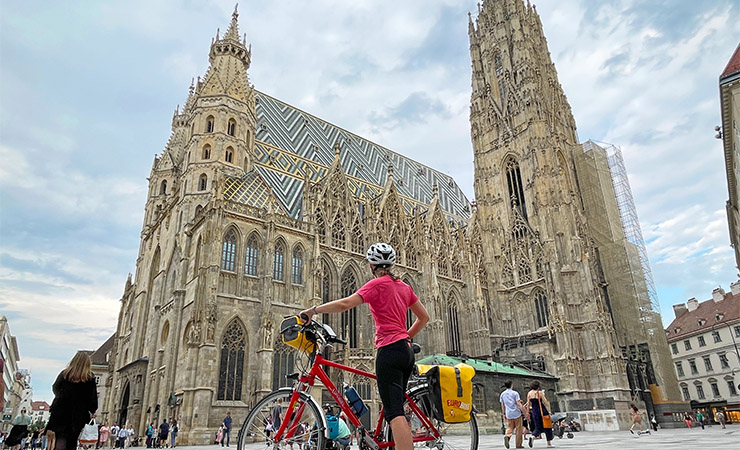 Innsbruck- Wien © Eurobike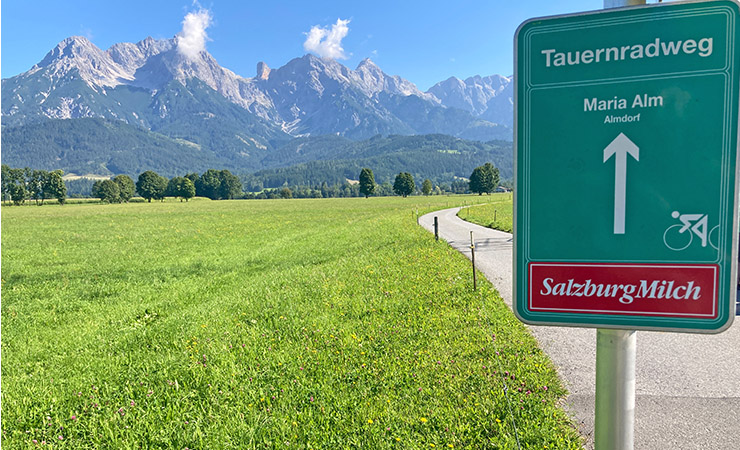 Innsbruck- Wien © Eurobike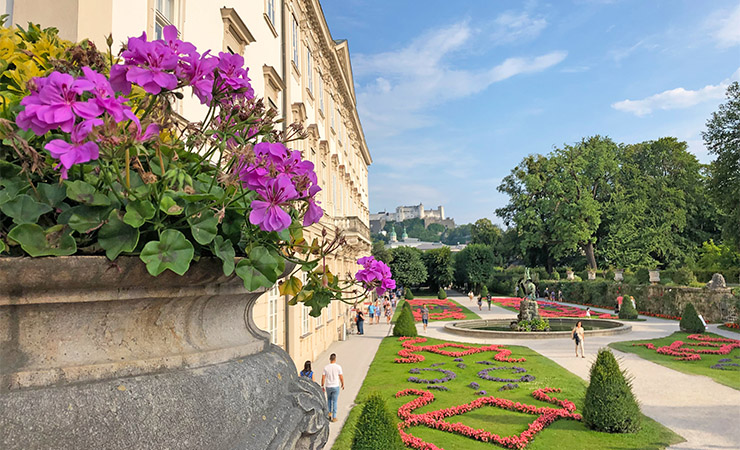 Innsbruck- Wien © Eurobike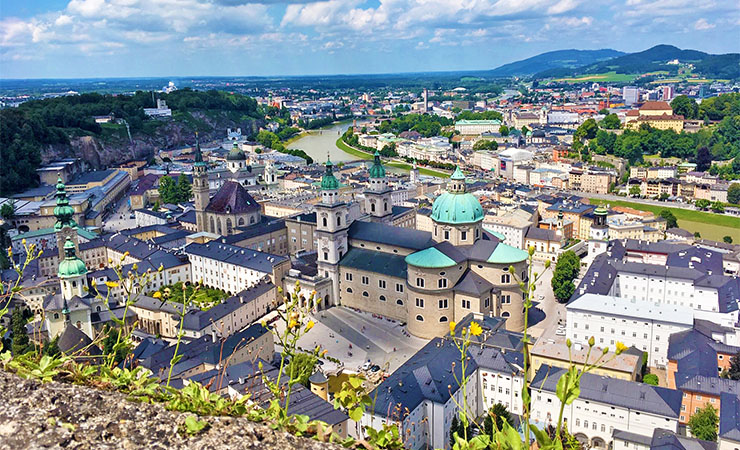 Innsbruck- Wien / Altstadt © Eurobike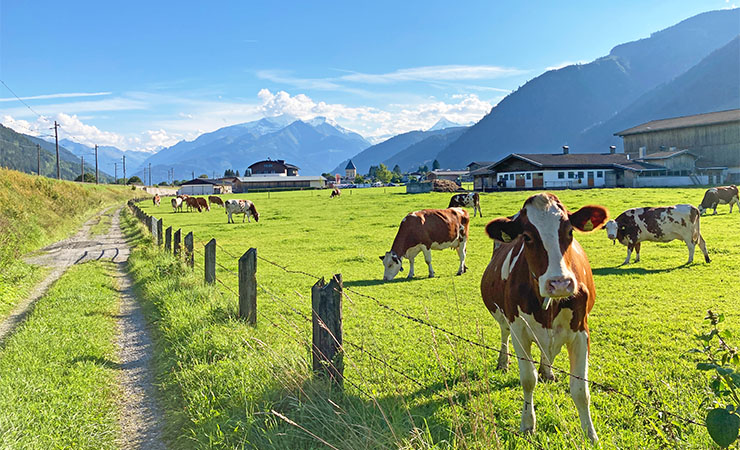 Innsbruck- Wien © Eurobike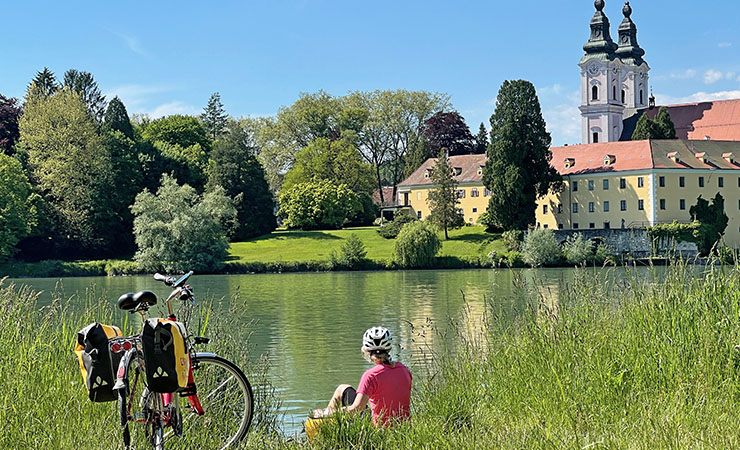 Innsbruck- Wien © Eurobike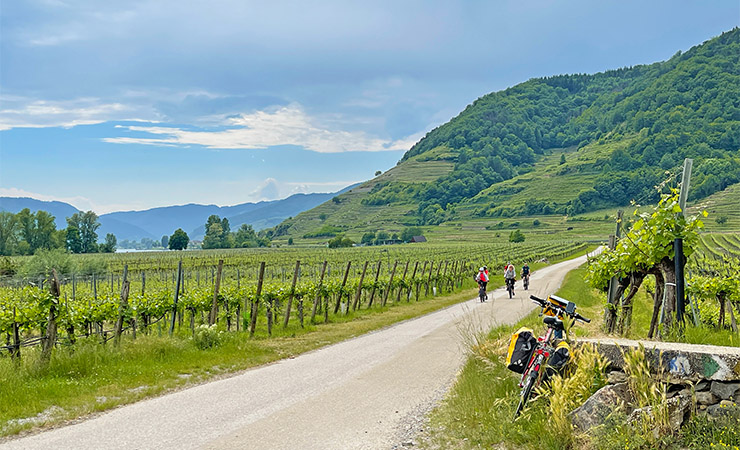 Innsbruck- Wien / Wachau © Eurobike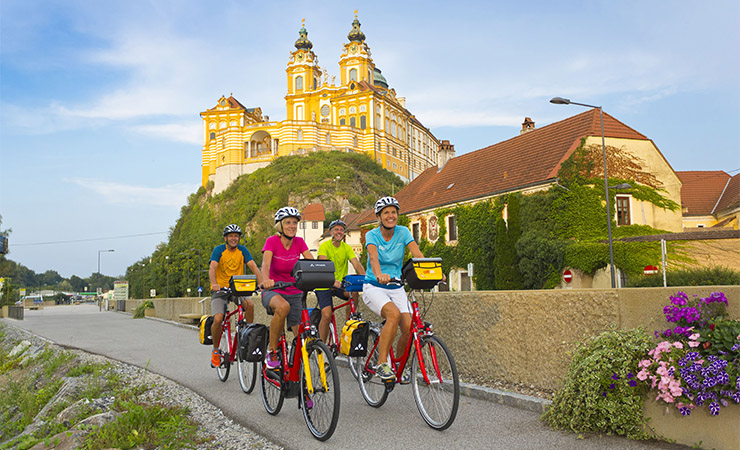 Innsbruck- Wien / Melk © Eurobike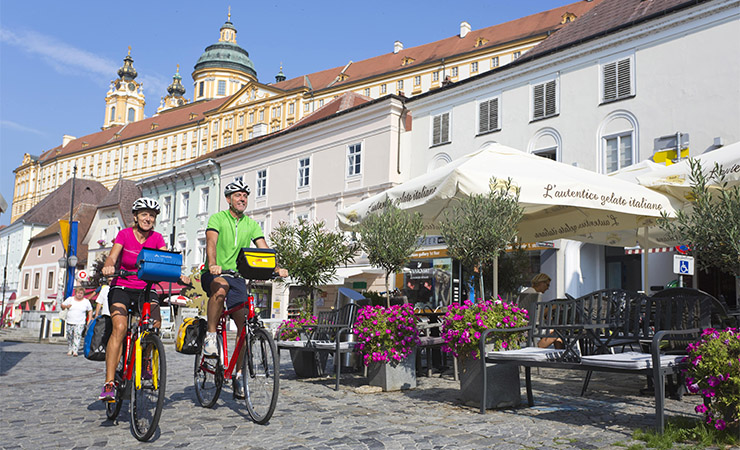 Innsbruck- Wien / Melk © Eurobike
Previous
Next
Tour highlights
map
Innsbruck's Mountain panorama
Lush green alpine valleys
Enchanting Salzburg
World-renowned Wachau wines
from 1 890 €
/ pers.
Reference :
SLZ3
13 days
/ 11 days riding
Difficulty :
Easy
Linear trip
From April to October
Departure:
Saturday
Electric bike rental possible
> Book this trip
Some questions about this trip ?
Contact us +33(0)2 54 78 62 52 or by email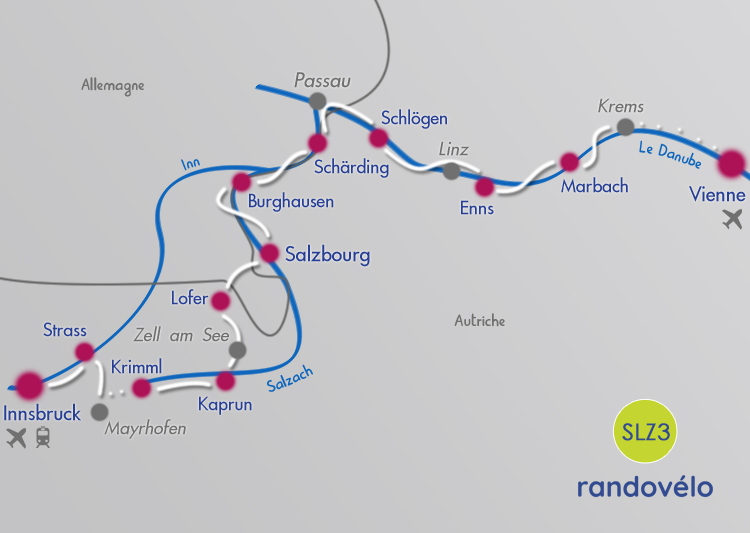 > Download tour program
Your bike trip in Austria
You can experience three of the most famous river cycle paths in Austria up close on this cycle holiday. Start comfortably on the Inn cycle path and admire the towering Nordkette mountains. In the Zillertal valley you only make a short stop because the largest waterfalls in Europe are already waiting for you in Salzburg's Pinzgau region. The popular Tauern cycle path leads you via Lake Zeller See intially into world-famous Salzburg and then onwards to Passau. Here you will meet the river Inn again and of course the Danube. She will accompany you further across Austria to imperial Vienna. Marvellous scenery, culinary delicacies, traditional customs and high culture – a cycle tour could not be more diverse!
Day 1 :

Arrival in Innsbruck

Welcome meeting and distribution of rental bikes.
Day 2 :

Innsbruck – Strass / Zillertal Valley | 50 km

Accompanied by the towering Nordkette mountains situated above the saltworks town of Hall with its historic Münzerturm tower to Wattens. Here you can visit the enchanting Swarovski World of Crystals. Along the Inn cycle path past Schwaz (Silver tourist mine) to the 'cyclists' village' of Strass situated at the entrance of the Zillertal-valley.
Day 3 :

Strass / Zillertal valley – Krimml | 25-45 km + transfer

With a view onto the fascinating mountain backdrop of the Zillertaler Hauptkamm with its mountain giants featuring altitudes of more than 3000 metres it is very enjoyable to cycle along the Zillertal cycle path all the way to Zell, or even a bit further into the renowned Mayrhofen. In the early afternoon you take the transfer bus via the Gerlospass to Krimml. Already during this transfer you get to marvel at Europe's largest waterfalls, which you can afterwards also admire 'live' along a high-altitude path.
Day 4 :

Krimml – Kaprun / Zell am See | 60 km

Today's route leads you through the Hohe Tauern national park and the Oberpinzgau region. En route you are constantly accompanied by snow-covered three thousand metre high peaks. Lush green meadows and cosy little villages take turns and offer a fairy-tale backdrop. In Kaprun you can then visit the high-mountain reservoirs.
Day 5 :

Kaprun / Zell am See – Lofer | 50 km

We highly recommend you go for a refreshing swim in Lake Zeller See, athletic cyclists can add on an extra loop. Via Maria Alm featuring the renowned pilgrimage church you quickly reach Saalfelden, where you enjoy your lunch break. Other highlights en route to Lofer are the Seisenberg-ravine and the Lamprechtshöhe-peak near Weißbach.
Day 6 :

Lofer – Salzburg | 50 km

During today's tour you always cycle in the tranquil Saalachtal-valley. Bad Reichenhall situated in the small 'deutsches Eck' will enchant you with Bavarian flair. Now only a short while and you have reached the Mozart city of Salzburg. The culture-rich offerings will amaze you. Please leave plenty of time for a stroll through the historic centre and plan a visit to Mozart's birthplace.
Day 7 :

Salzburg – Burghausen | 60 km

Oberndorf with its 'Silent Night Chapel' and extensive alluvial forests lead you to Tittmoning. From here you follow the 'Nature Adventure Trail Unterer Inn' until Burghausen. A splendid historic centre and the largest castle complex in Central Europe are the most significant attractions of the town.
Day 8 :

Burghausen – Schärding | 70 km

The Gothic town of Braunau and numerous bird colonies show the way to Obernberg. Reichersberg Abbey invites for a visit. The little towns along the river Inn appear just like pearls and without doubt one of them is the Baroque town of Schärding with its renowned row of colourful houses called 'Silberzeile'.
Day 9 :

Schärding – Danube River Loop | 55 km

Along the river Inn into the city of three rivers Passau. We recommend a city tour including a visit to the cathedral, home of the largest church organ in the world. Along the river Danube you cycle via Obernzell and Engelhartszell featuring the only Trappists-monastery in Austria through the Donauleiten nature reserve to the 'Schlögener Schlinge'-river loop. A short ferry ride takes you across the Danube to the hotel.
Day 10 :

Danube River Loop – Enns or surroundings | 70 km

The renowned Danube river loop is one of the many highlights of this cycle holiday. The market towns along the river Danube Aschach, Ottensheim and Wilhering lead you into the provincial capital Linz. Along the lines of: " In Linz it all beginz" numerous venues in the historic centre invite you for a break. You continue to Enns, into Austria's oldest town featuring the town square and tower and the town museum 'Lauriacum').
Day 11 :

Enns or surroundings - Marbach / Maria Taferl | 65 km

Again today you cycle along the river Danube into the glorious little Baroque town of Grein. Here you need to visit the theatre, the maritime museum and Greinburg castle. Through the once feared Strudengau you cycle into the Weinviertel area to Marbach or Maria Taferl featuring the pilrimage church situated high above the Danube.
Day 12 :

Marbach / Maria Taferl – Vienna | 55 km + train ride

Melk Abbey greets you and makes a big impression before the marvellous Wachau region with the romantic little wine towns Weißenkirchen, Dürnstein and Krems enchants you. By train you continue into the capital Vienna offering a multitude of sights.
Day 13 :

Departure in the day
Select your category
standard category
Reference:

SLZ3 STD
Low season
from April 27th to May 10th
from September 28th to October 5th
Departure: Saturday
2 persons basis :
(price per person)
* Single supplement
1 890 €
/ pers.
480 €

/ pers.

*
Mid season
from May 11th to 24th
from September 7th to 27th
Departure: Saturday
2 persons basis :
(price per person)
* Single supplement
1 990 €
/ pers.
480 €

/ pers.

*
High season
from May 25th to September 6th
Departure: Saturday
2 persons basis :
(price per person)
* Single supplement
2 120 €
/ pers.
480 €

/ pers.

*
Category's details
Including :
• 12 nights with breakfasts (accommodation in a two-person bedroom)
• Luggage transport during the bike stages
• Equipped cycle rental for 11 days without helmet
• 1 bus transfer Zell am Ziller – Krimml incl. your bike
• 1 train ride Krems – Wien incl. your bike
• 1 travel folder (per room) including colour maps, detailed route directions in French or English and tourist brochures
• App for Navigation and GPS-data
• Hotline 7 days a week
Not including :
• Dinners / Lunches / Drinks
• Tickets to attractions, tours of attractions, tasting
• Optional insurances (Cancellation Insurance OR Tranquility Insurance)
• Single room supplement (12 nights included)
• Transfer from Vienne to Innsbruck and personal bike repatriation
• City taxes
According to the category
(price per person)
standard category
Reference:

SLZ3 STD
Extra night in Innsbruck
(accommodation in a two-person bedroom)
* Single supplement
Any season
+ 90 €
/ pers.
+ 50 €

/ pers.

*
Extra night in Vienne
(accommodation in a two-person bedroom)
* Single supplement
Any season
+ 75 €
/ pers.
+ 50 €

/ pers.

*
Extras
• Bike discount
If you bring your own bike.
• 'Sport' bike supplement
Slightly sportier, lighter and more precise, this type of rental bike will delight all guests who want even more quality in the saddle.
• 'Solo' supplement
(in the case of a single person per booking) Indicative price – please contact us.
Your cycle hire
VTC KTM 21 speed gears
Man or Lady frame
1 rear pannier (saddlebag)
1 front pannier
1 repair kit
1 pump
1 lock
Helmets are not provided. We suggest to bring yours.
VTC KTM 27 speed gears
High frame
Hydraulic Magura breaks HS 11 Shimano Deore XT
Suntour suspension fork
1 rear pannier (saddlebag)
1 front pannier
1 repair kit
1 pump
1 lock
With extra cost
VAE PEDELEC
Universal frame
1 rear pannier (saddlebag)
1 front pannier
1 repair kit
1 pump
1 lock
> Your journey
> How to arrive in Innsbruck
> Your return
Your journey
Mainly cycle paths in the river valleys of Inn, Ziller, Salzach, Saalach and Danube. Occasionally gently hilly route with short ascents, also on nature paths. You cycle on wonderful cycle paths and small side roads, main roads only on short sections.
How to arrive in Innsbruck
By car :
Motorways in Austria: Vignette (road tax disk) mandatory: 10-day vignette € 9.40, 2-month vignette € 27,40
Underground car park approx. EUR 17 / day ; to be paid for at the time, no reservation possible
By train :
Innsbruck main train station.
From here, we recommend taking a taxi to your hotel.
By plane :
Innsbruck airport.
From Innsbruck Airport, the cost per taxi is approx. € 16.
Your return
A return transfer by train is possible and organized on your own.
Plan to go to the train station with your luggage (and your potential own bike)
(Personal bike return costs are on your responsibility.)