Bike tour in Tuscany
Tuscany © eurobike
bike tuscany © eurobike
Tuscany- Pise © eurobike
San-Gimignano © eurobike
Florence © eurobike
bike tuscany © eurobike
Florence Ponte Vecchio © eurobike
Previous
Next
Tour highlightsmap
The Leonardo da Vinci museum
Cycling across the Piazzi dei Miracoli
Breathtaking Tuscan hilly landscape
The Chianti wine region
from 885 € / pers.
(on the minimum basis of 2 pers.)
Reference : IT3
8 days
/ 6 days riding
Difficulty :
Sustained
Linear tripFrom April to October 2019Departure:
Saturday
Electric bike rental possible
> Book this trip
Some questions about this trip ?
Contact us +33(0)2 54 78 62 52 or by email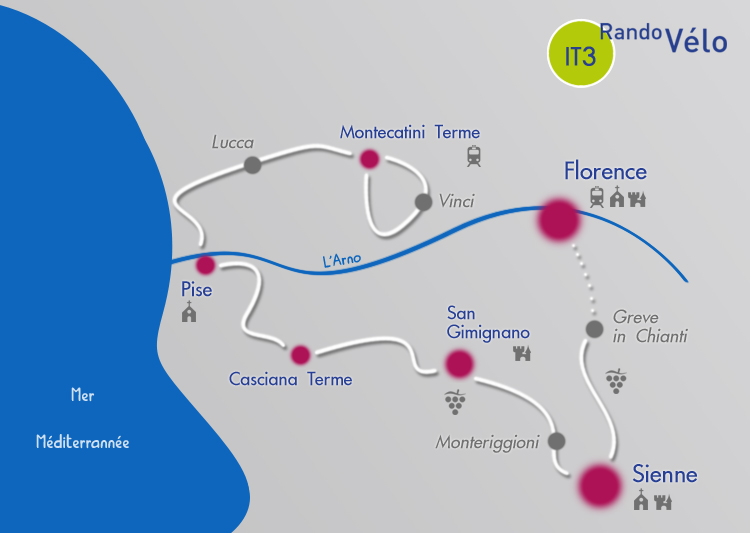 Your cycling trip in Tuscany :
The home of eminent people like Giacomo Puccini and Leonardo da Vinci; Tuscany impresses all of our senses: mouth, nose, ears, and even the stomach. Perhaps with a portion of spaghetti al pesto and a classic Chianti?
As a cyclist, you will get many opportunities to perceive the full scale of impressions, colors, shapes, and sounds in this region: the elegance of magnificent castles, the use of forms in the stylish villas, surrounded by the silvery green of the olive groves and the purple of the lilies. Visit Florence, "la bella" – the beautiful one, Siena, Vinci, and Pisa and enjoy the solitude of the wide hills cycling on quiet roads. For centuries, Tuscany has enchanted people.
Day 1 : Arrival in Montecatini Terme
The small town of Montecatini Terme is a perfect starting point for your first view over Tuscany area. We recommend taking the historical rack railway train to Montecatini Alto.
Day 2 : Montecatini Terme – Vinci – Montecatini Terme | 55 km
At the beginning of your tour, you will cycle through the vast plains of the valley Valdenievole, which is characterized by a lot of agriculture. You will continue through the first Tuscan villages, through olive groves to Vinci, the birthplace of Leonardo. We recommend visiting the museum in the castle since it is home to one of the largest and most original collections of machines and models of the inventor.
Day 3 : Montecatini Terme – Pise | 40 / 90 km
On your way to Lucca, you will pass the small, medieval wine town of Monte Carlo, where one of the few white wines of Tuscany flourishes. (Alternatively, you can take the train to Lucca). A bike ride on the historic city walls offers magnificent views of churches and towers that rise above the countless roofs of the city. Afterwards, you will continue to Lake Massacciuccoli with stunning views of the sea and Pisa with its Court of Miracles.
Day 4 : Pise – Casciana Terme | 50 km
First, the bike path leads you along the river Arno. Many fertile fields line your way and you will continue your tour through the Pisan hills, on whose gentle slopes sweet wines, olives and juicy peaches grow. You will see small medieval villages located on the hilltops and soon you will have reached today's destination, the spa town Casciana Terme.
Day 5 : Casciana Terme – San Gimignano | 55 km
Today, you will cycle on beautiful trails through vineyards and rolling hills to San Gimignano. On your way, you will see images of the original Tuscany as they have been painted many times. Just before you reach today's destination, the silhouettes of the famous medieval towers appear in front of you. Each aristocratic family once had their own tower here – and these towers still dominate the townscape.
Day 6 : San Gimignano – Sienne | 50 km
The beautiful Tuscan landscape on today's stage makes you forget the small climbs on the route. Once you reach the small fortified village of Monteriggioni, you will feel as if you were in the Middle Ages. Today's highlight undoubtedly is the architectonic paradise of Siena.
Day 7 : Sienne – Florence | 50 km
The tour takes you into the midst of the wide Chianti region where the world-renowned "Chianti Classico" wine is grown. The charming wine village of Castellina is on your way to Greve. Thanks to its famous wine and olive production, it is called the capital of the Chianti region. From here you will get back to Florence by bus.
Famous for the immense political and economic power it wielded during the rule of the Medici Dynasty, Florence offered the world a stage for great artistic masters such as Michelangelo, Brunelleschi, Leonardo da Vinci and Galileo.
Day 8 : Departure during the day
Select your category
standard category
Reference: IT3 STD
superior category
Reference: IT3 SUP
deluxe category
Reference: IT3 LU
Low season
from April 6th to 26th 2019
from September 28th to October 12th 2019
Departure: Saturday
2 persons basis :
(price per person)
Single supplement
Mid season
from April 27th to May 24th 2019
from September 7th to 27th 2019
Departure: Saturday
2 persons basis :
(price per person)
Single supplement
High season
from May 25th to September 6th 2019
Departure: Saturday
2 persons basis :
(price per person)
Single supplement
Your cycle hire
KTM hybrid bike - 21 speed gears
Man or Lady frame
1 rear pannier (saddlebag)
1 front pannier
1 repair kit
1 pump
1 lock
Helmets are not provided.
We suggest to bring yours.
Possibility to rent an electric assistance bike :
PEDELEC e-bike
E-bike
Universal frame
1 rear pannier (saddlebag)
1 front pannier
1 repair kit
1 pump
1 lock
Practical details
Bikes will be delivered at the 1st hotel.
At the end of the tour, leave the rental bikes at your hotel, we will pick them up.
> Your journey
> How to arrive in Montecatini Terme
> Return
Your journey
Tuscany has a wonderful but also hilly landscape. You will cycle on quiet minor roads and sometimes even on country lanes from one famous city to another. Close to bigger cities, traffic is unfortunately unavoidable.
How to arrive in Montecatini Terme
 > By train :
 Montecatini Terme train station.
> By plane :
 Pisa and Florence airport.
Return
> If you have to come back to the start point:
This return can be carry out by RandoVelo/Biking France: please contact us!
Return transfer per minibus to Montecatini on request  (€ 25 per person incl. your bike). Reservation is necessary. Payment on spot.
Private bikes will be transferred for free from Greve to Florence resp. Montecatini Terme.
A return transfer by train is possible and organised on your own.
Plan to go to the train station with your luggage (and your potential own bike)
(Personal bike return costs are on your responsibility.)
– Florence train station >> Montecatini Terme train station