From Pisa to the Cinque Terre by bike
Cinque Terre © Pixabay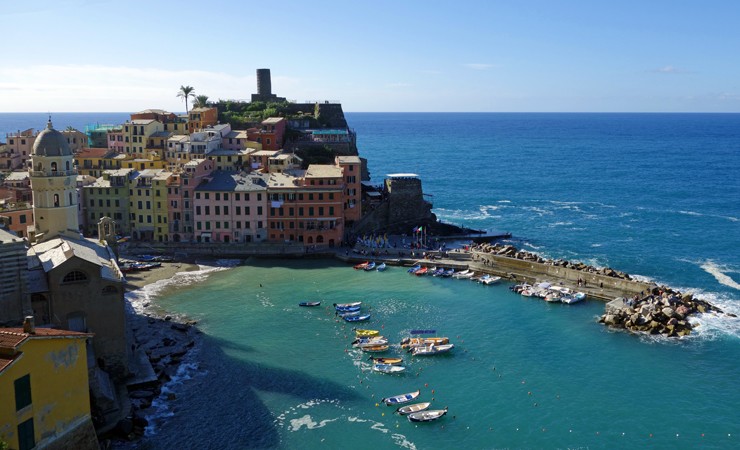 Monterosso © Eurobike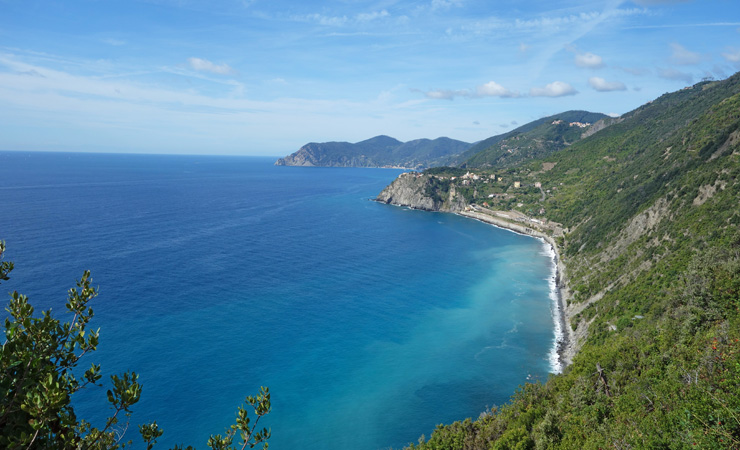 Sea side © Eurobike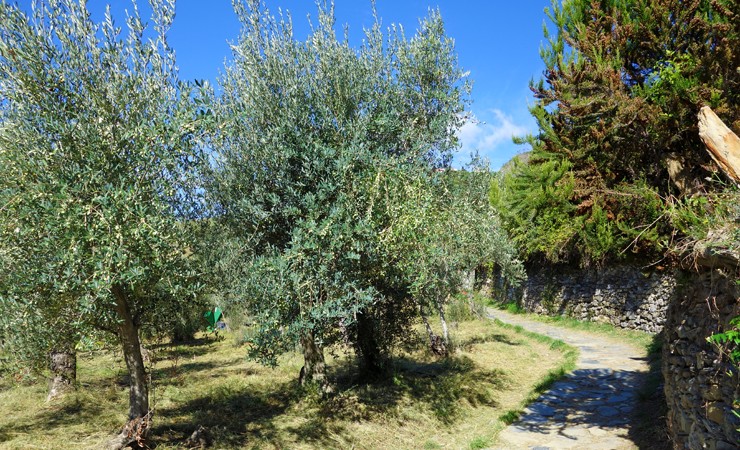 Olive grove © Eurobike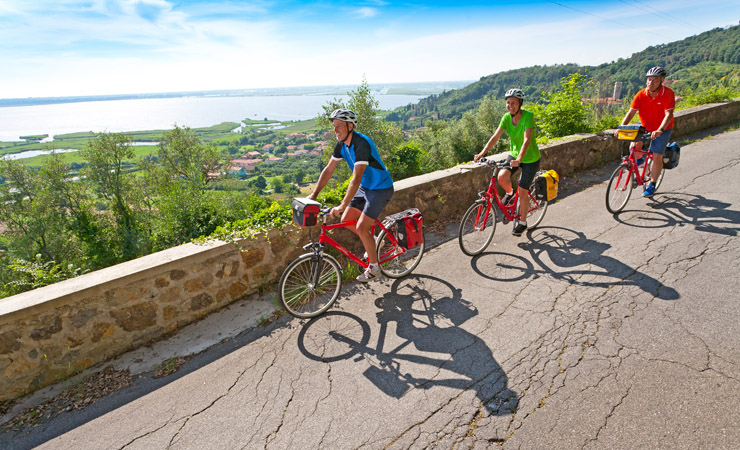 Lake Massaciuccoli © Eurobike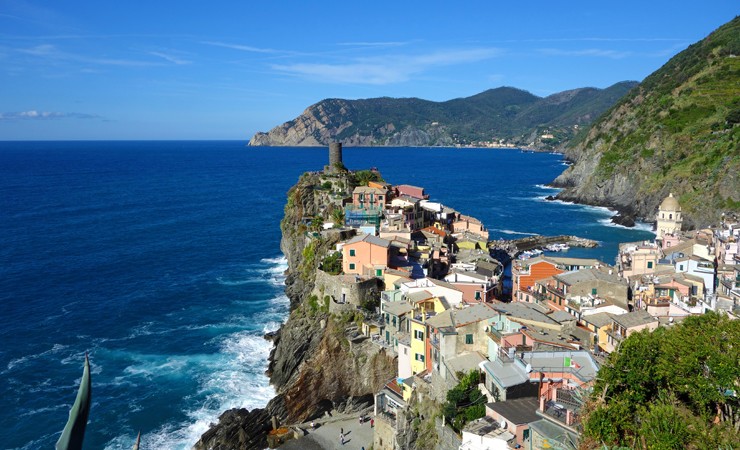 Monterosso © Eurobike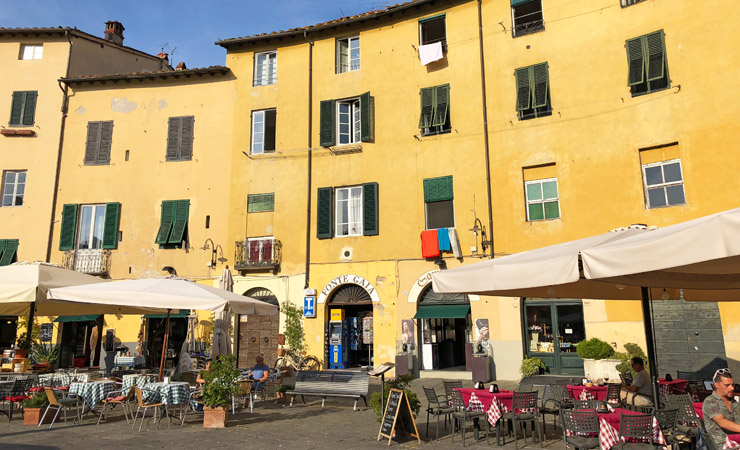 Amphitheater square - Lucca © Eurobike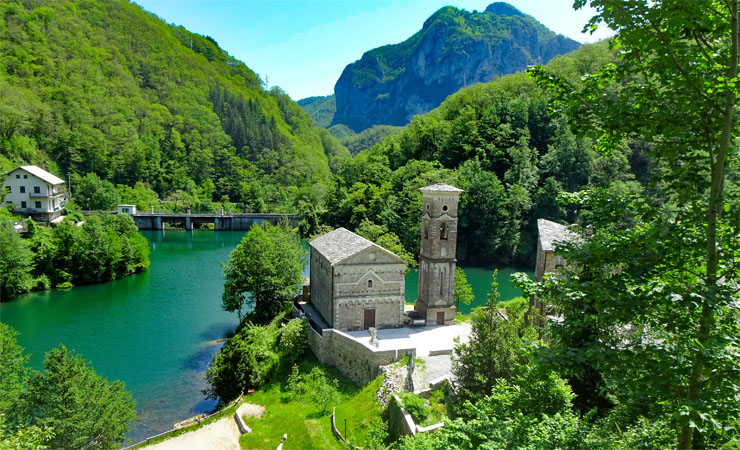 River dam © Eurobike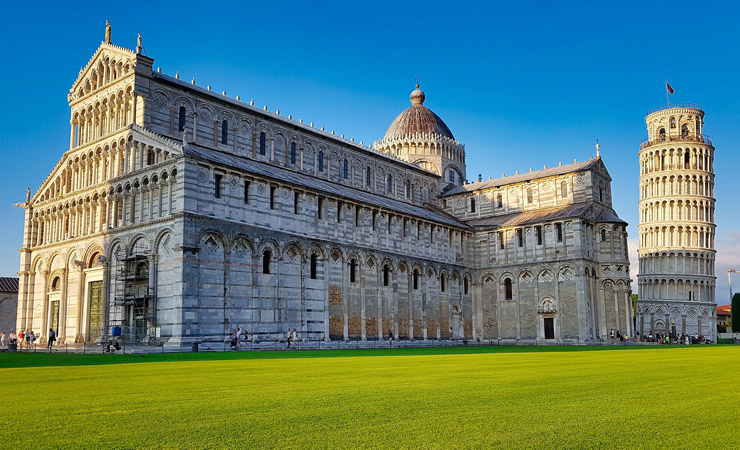 Pisa © Pixabay
Previous
Next
Tour highlights
map
Cycling across the Piazza dei Miracoli in Pisa
The fashionable seaside resorts along the Versilia coast
The marble quarries of Carrara
The World Heritage site of Cinque Terre
from 970 €
/ pers.
Reference :
IT7
8 days
/ 6 days riding
Difficulty :
Sustained
Linear trip
From April to October
Departure:
Saturday
Electric bike rental possible
> Book this trip
Some questions about this trip ?
Contact us +33(0)2 54 78 62 52 or by email

> Download tour program
Your biking tour in the Cinque Terre
In terms of variety, this trip from Tuscany to Liguria is hard to beat. Centuries-old monuments will impress you in Pisa, Lucca and La Spezia. Experience the vast, sandy beaches along the sparkling Versilia coast in the fashionable seaside resorts of Viareggio and Forte dei Marmi. Wild nature will accompany you as you travel through the ever-narrowing valley of the Serchio River. The views of the white marble bridge of Carrara or the world-famous colourful houses in the Cinque Terre will take your breath away. This varied landscape is enriched with full-bodied wine, fragrant basil and lots of Italian "dolce vita". It is waiting for you…immerse yourself in the incredible diversity of Italy.
Full departure date :
13/08/2022
Day 1 :

Arrival in Pisa

In the evening welcome briefing and bike fitting. We recommend an initial visit of the magnificent old part of town that day.
Day 2 :

Pisa – Viareggio | 30 km

Enjoy the magical old town of Pisa again before taking on the beautiful paths through the 'Macchia Luccese' national park to the sea. Continue along the sandy beach until you reach the charming resort of Viareggio with its historic swimming baths. Take your first dip in the fresh waters of the Tyrrhenian Sea here, or even along the way.
Day 3 :

Viareggio – Lucca | 45 km

In the morning you travel along the Versilia coast for a while, before heading back inland. You cycle along the 'Via Fancigena', the ancient pilgrim route on the way from France to Rome. It travels through small, medieval villages in the Tuscan hills to the banks of the Serchio river. The well-maintained cycle path will eventually take you to the centre of Lucca. Not only the old town will impress you, you'll experience a special highlight – a round trip of the city walls by bike.
Day 4 :

Lucca – Castelnuovo di Garfagnana | 50 km

On the cycle path along the Serchio you leave the city once more. Today the river is your constant companion and you cycle in the valley towards the Apennines national park, with its more than 2000-metre-high peaks. The mystical Devil's Bridge is a popular photo opportunity, directly on the bike path, its steepness is simply breathtaking. In today's location, Castelnuovo di Garfagnana, time seems to have stopped. Narrow medieval streets, stone bridges and small, charming squares characterize the townscape.
Day 5 :

Castelnuovo di Garfagnana – Forte dei Marmi or surroundings | 50 km

A beautifully landscaped mountain road leads you back to the sea today. Over the first 20 kilometres you will overcome approximately 550 metres of altitude and then suddenly find yourself amongst the quarries of the world-famous white Carrara marble. Then it's down again…30 kilometres downhill! In the fashionable Forte dei Marmi, you will definitely have earned a dip in the Tyrrhenian Sea.
Day 6 :

Forte dei Marmi or surroundings – La Spezia | 55 km

Today's cycling route promises lots of variety. Lush green grape vines accompany you on the last few kilometres in Tuscany. The charming fishing village of Bocca di Magra is already in Liguria and the coastal road that starts from there offers fantastic views over the deep blue sea. The pastel-coloured houses in Lerici give you a first impression of the Ligurian coast. From here it is only a few kilometres to your destination of La Spezia, a historic port city with a lot of art, culture and good food.
Day 7 :

Excursion Cinque Terre | 20 km hiking tour and train trip

The national park around the colourful facades of the Cinque Terre – the five villages of Monterosso, Vernazza, Corniglia, Manarola and Riomaggiore – was declared a World Heritage Site in 1997 and is one of the most sought-after photo opportunities in Italy. On a breath taking coastal walk, you get to know these villages from a very special viewpoint. In the morning you can take the train from La Spezia to Monterosso. From there you travel with the glittering sea always on the right-hand side, from village to village (the route can be shortened at any time by train or boat). From Riomaggiore, the Cinque Terre Express takes you back to your accommodation in La Spezia.
Day 8 :

Departure in the day
Select your category
standard category
Reference:

IT7 STD
Low season
from April 2nd to 15th
from October 1st to 8th
Departure: Saturday
2 persons basis :
(price per person)
* Single supplement
970 €
/ pers.
375 €

/ pers.

*
Mid season
from April 16th to May 13th
from September 10th to 30th
Departure: Saturday
2 persons basis :
(price per person)
* Single supplement
1 040 €
/ pers.
375 €

/ pers.

*
High season
from May 14th to September 9th
Departure: Saturday
2 persons basis :
(price per person)
* Single supplement
1 120 €
/ pers.
375 €

/ pers.

*
Category's details
Including :
• 7 nights with breakfasts (accommodation in a two-person bedroom)
• Luggage transport during the bike stages
• Equipped cycle rental for 6 days without helmet
• 1 Cinque-Terre-Card valid for train rides and entry/hiking in the nature park
• 1 travel folder (per room) including colour maps, detailed route directions in French or English and tourist brochures
• Hotline 7 days a week
Not including :
• Dinners / Lunches / Drinks
• Tickets to attractions, tours of attractions, tasting
• Optional insurances (Cancellation Insurance OR Tranquility Insurance)
• Single room supplement (7 nights included)
• Transfer from La Spezia to Pise and personal bike repatriation
• City tax
According to the category
(price per person)
standard category
Reference:

IT7 STD
Extra night in Pise
(accommodation in a two-person bedroom)
* Single supplement
Any season
+ 75 €
/ pers.
+ 35 €

/ pers.

*
Extra night in La Spezia
(accommodation in a two-person bedroom)
* Single supplement
Any season
+ 95 €
/ pers.
+ 75 €

/ pers.

*
Extras
• Bike discount
If you bring your own bike.
• 'Solo' supplement
(in the case of a single person per booking) Indicative price – Please contact us.
Your cycle hire
VTC KTM 21 vitesses
Man or Lady frame
1 rear pannier (saddlebag)
1 front pannier
1 repair kit
1 pump
1 lock
Helmets are not provided.
We suggest to bring yours.
Possibility to rent an electric assistance bike :
VTC PEDELEC
E-bike
Universal frame
1 rear pannier (saddlebag)
1 front pannier
1 repair kit
1 pump
1 lock
Practical details
Bikes will be delivered at the 1st hotel.
At the end of the tour, leave the rental bikes at your hotel, we will pick them up.
> Your journey
> Your arrival in Pisa
> Return
Your journey
The route is on cycle paths and mostly on low-traffic side roads. The first stage is completely flat, all other stages are hilly with several, at times tougher, climbs. On the fourth day of cycling, there is a long climb of over 550 metres. The paths are mostly asphalted and for short distances on gravel roads. When entering and exiting cities, as well as during short connections, a bit more traffic can be expected.
Your arrival in Pisa
By train :
Pisa and Florence train stations.
Trenitalia – Tél : 0825 800 329 – www.trenitalia.it
By plane:
Pisa and Florence airport
By car:
Public hotel garage costs approx. 15€ per day, to be paid for at the time.
Return
 If you have to come back to the start point:
This return can be carry out by RandoVelo/Biking France: please contact us!
Return transfer by minibus to Pisa every Saturday  (€ 80 per person – € 23 for your own bike). Reservation and payment are necessary before departure.
A return transfer by train is possible and organised on your own.
Plan to go to the train station with your luggage (and your potential own bike)
(Personal bike return costs are on your responsibility.)
– La Spezia train station >> Pisa train station