Danube cycle tour: from Passau to Vienna | 8 days ('classic')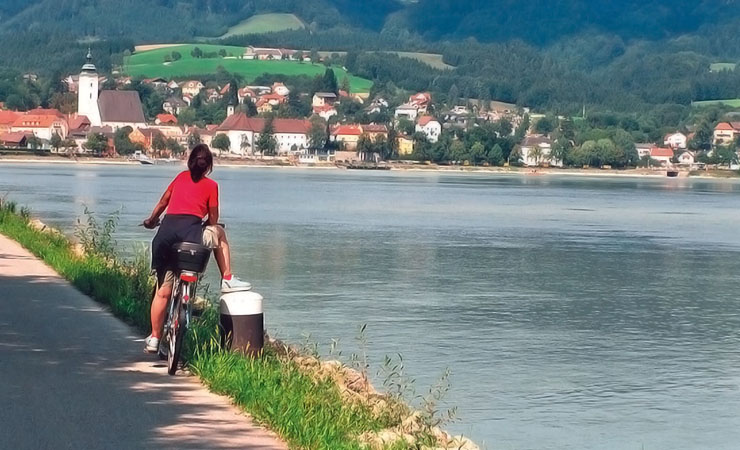 Grein gb © Aust.Rad.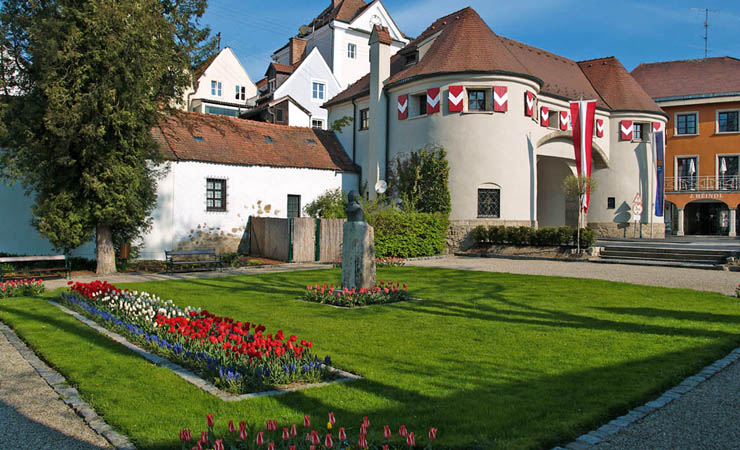 Linzer Tor © Aust.Rad.
- © Aust.Rad.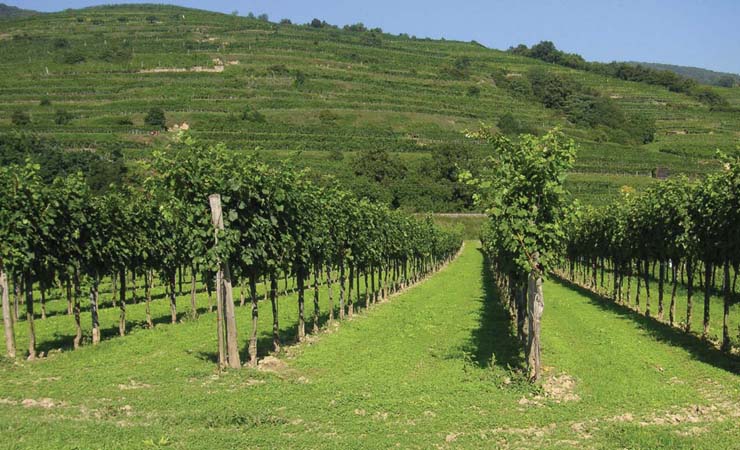 vineyards © Aust.Rad.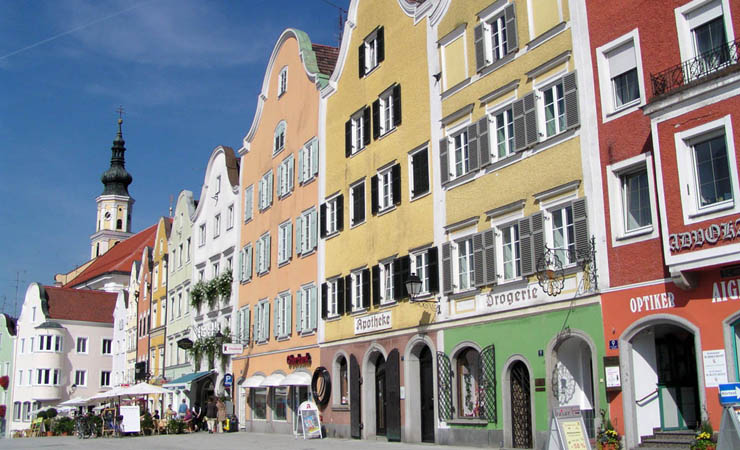 Silberzeile © Aust.Rad.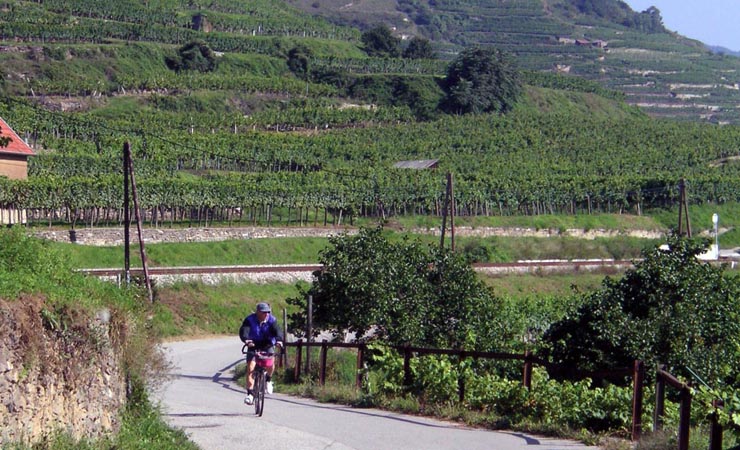 Wachau © Aust.Rad.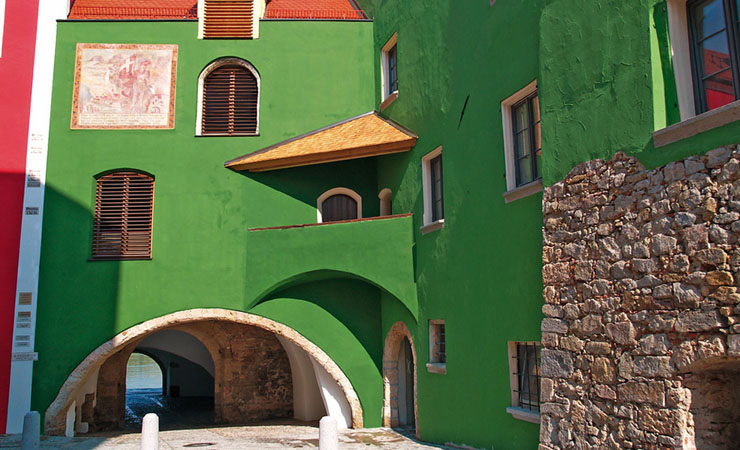 Wassertor © Aust.Rad.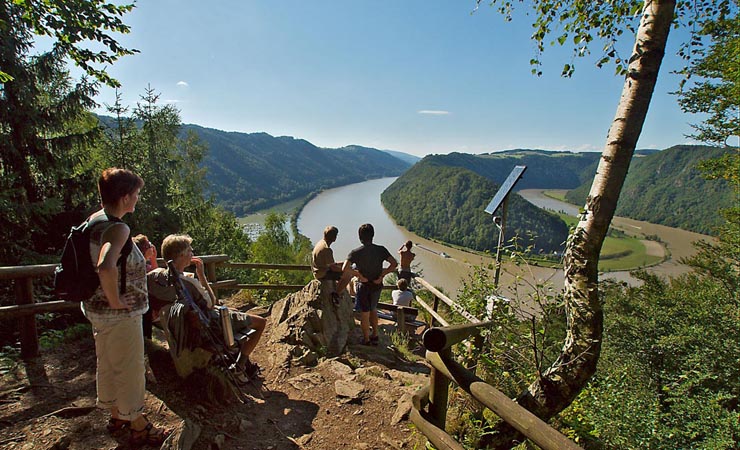 Danube © Aust.Rad.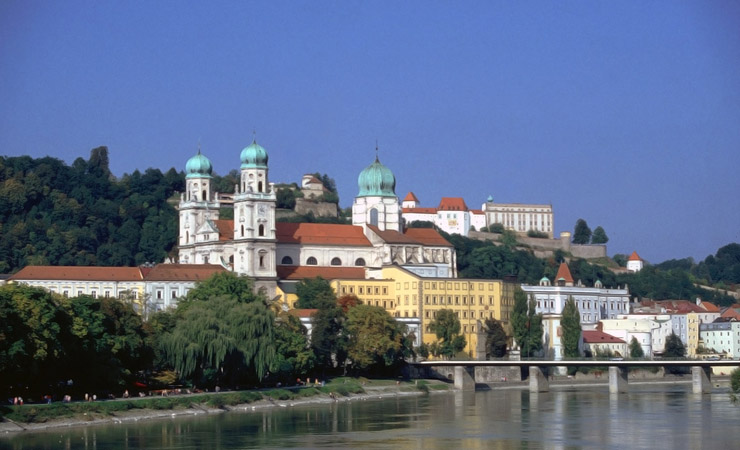 - © Aust.Rad.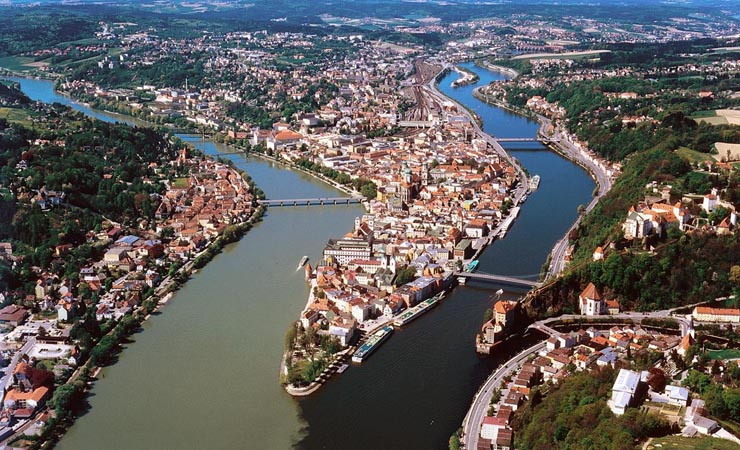 - © Aust.Rad.
Previous
Next
Tour highlightsmap
The nice region of the Wachau and its vineyards
Small villages' Baroque architecture and numerous monasteries
A safe and marked-out itinerary
from 570 € / pers.
(on the minimum basis of 2 pers.)
Reference : PV
8 days
/ 6 days riding
Difficulty :
Moderate
Linear tripFrom April to October 2019Departure:
daily
Electric bike rental possible
> Book this trip
Some questions about this trip ?
Contact us +33(0)2 54 78 62 52 or by email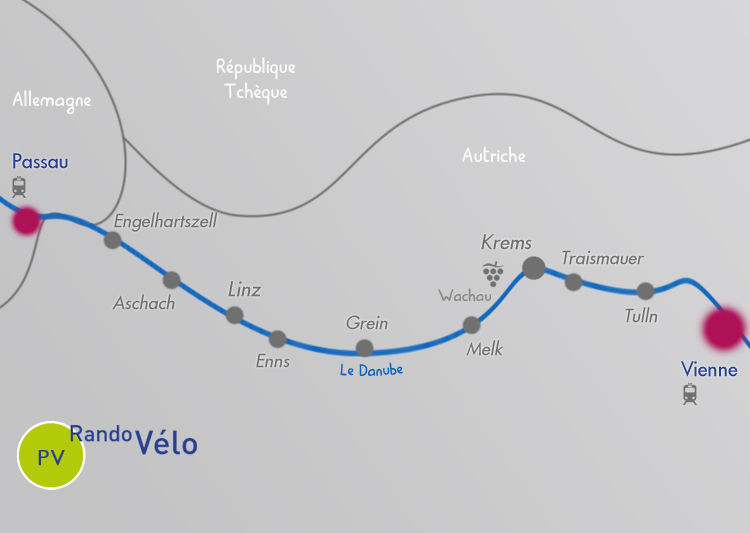 Your cycling trip along the Danube:
Discover the Romantic soul of the Danube … and Austria by bike!
Along the secured trail, following the majestic river, you will discover a rich historical past reflected in the small villages and châteaux! You will appreciate as well the beauty of the natural setting of the 'Wachau' area, one of the richest wine-growing areas of the country.
From Passau to Vienna, via Linz, capital of Upper Austria, a matchless escapade!
Day 1 : Arrival in Passau
Individual sightseeing-tour in the "three river town" Passau. At 12.00 o'clock, in the cathedral you can listen to an organ concert (except on Sundays and public holidays) on the world's largest church organ.
Day 2 : Stage Passau - Upper Danube Valley | 43 km / 58 km
Cycle on the southern side of the Danube to Engelhartszell, where you can find Austria's only Trappist monastery. You have the possibility to cross the Danube by ferry in Engelhartszell or in Jochenstein (1 km before Engelhartszell) at the power station on the northern side of the Danube. At the power station Jochenstein is the "House of the river", where you can visit an exhibition about the river.
Day 3 : Stage Upper Danube Valley - Linz | 50 km / 65 km
First scenic highlight is the Danube Loop of Schlögen ("Schlögener Donauschlinge") where the hard granite forces the river to an extremely tight loop. In Aschach the valley widens and you cycle through the fertile basin of Eferding. The baroque Monastery of Wilhering invites you to rest before you reach the cultural city of Linz, the capital of Upper Austria.
Day 4 : Stage Linz - Ardagger / Grein | 50 km / 65 km
Leave Linz and go on cycling via Mauthausen or Enns, Austria's oldest town (Danube bike ferry), to Wallsee. Via Ardagger, cycle to the beautiful old bargee town of Grein. You can visit the Greinburg (castle), the theatre of the town and the maritime museum.
Day 5 : Stage Ardagger / Grein - Wachau | 50 km / 68 km
Through the romantic Strudengau you cycle to the ancient Roman town of Ybbs. Here begins the gentle landscape of the Nibelungengau and from afar you see the pilgrimage church of Maria Taferl which overlooks the Danube valley. In Melk you should visit the famous Benedictine Abbey and the idyllic Wachau area invites you to rest.
Day 6 : Stage Wachau - Traismauer / Tulln | 54 km / 76 km
You experience again the most beautiful part of your journey, the picturesque Wachau area. You cycle past emerald vineyards, through lush orchards and discover the romantic town of Dürnstein with its castle ruins. In Krems, the old town with its arcaded courtyards and baroque town houses are worth seeing. Through the rambling meadows of the Tullnerfeld you reach your next destination in the area Traismauer / Tulln.
(If you want, you can do a part of the stage by boat – from mid-April till mid-October).
Day 7 : Stage Traismauer / Tulln - Vienne | 36 km / 64 km
Shortly before Vienna, the valley narrows again, the Danube passes through the Vienna Gate on the edge of the Vienna Woods and leads you through Klosterneuburg to the charismatic cosmopolitan city of Vienna, famous for its cafe culture and its many sights. The bike path ends only a few minutes away from the cathedral of St. Stephan, Vienna's landmark.
Day 8 : Departure during the day
Select your category
standard category
Reference: PV STD
superior category
Reference: PV SUP
deluxe category
Reference: PV LU
Low season
from April 1st to 7th 2019
from October 23rd to 31st 2019
Departure: daily
2 persons basis :
(price per person)
Single supplement
Mid season
from April 8th to May 12th 2019
from September 18th to October 22nd 2019
Departure: daily
2 persons basis :
(price per person)
Single supplement
High season
from May 13th to September 17th 2019
Departure: daily
2 persons basis :
(price per person)
Single supplement
Your cycle hire
Hybrid bike - 21 speed gears
Man or Lady frame
2 rear panniers (saddlebags)
1 repair kit
1 pump
1 lock
Helmets are not provided. We suggest to bring yours.
Possibility to rent an electric assistance bike :
e-bike
E-bike
Universal frame
2 rear panniers (saddlebags)
1 repair kit
1 pump
1 lock
Practical details
Bikes will be delivered at the 1st hotel.

At the end of the tour, leave the rental bikes at your hotel, we will pick them up.
> Your journey
> How to arrive in Passau
> Return
Your journey
Always along the Danube, it is nearly always flat or slightly downhill.
Total Distance: approx. 350 km
Return
> If you have to come back to the start point:
This return can be carry out by RandoVelo/Biking France : see tabs "rates" and "see all the rates".
A return transfer by train is possible and organised on your own. Please visit:
http://fahrplan.oebb.at/bin/query.exe/en?
Plan to go to the train station with your luggage (and your potential own bike)
(Personal bike return costs are on your responsibility.)
– Wien Westbahnhof train station >> Passau Hbf train station
About €52(booking on spot only).
(2nd class – departure approximately every hour – between 2h45 and 3h15 duration).

Trip overall rating : / 8 testimonials
Diane
Suisse
travel date: 23 August 2018.
" A recommander! "
Magnifique balade à vélo le long du Danube avec transport des bagages. Beaux hôtels et bonne restauration.
François
France
travel date: 25 July 2018.
" Excellent séjour "
Nous sommes ravis de notre parcours le long du Danube. Organisation parfaite, vélos en parfait état, documentation abondante, le parcours est très agréable, et les étapes très bien équilibrées.
Sabine
France
travel date: 22 August 2017.
" Superbe "
Superbe voyage pour les amateurs de sport et de culture : paysages variés, nombreuses visites possibles mais gastronomie "typée".
Françoise
France
travel date: 15 August 2017.
" Parfait "
Très beau parcours avec de magnifiques paysages. De la piste cyclable bien protégée sur tout le parcours. Des hôtels de très bonne qualité, calmes. De bons VTC. Carnet de route détaillé. Excellentes vacances relaxantes où nous avons pu allier vélo et découvertes touristiques.
Jean-Paul
Suisse
travel date: 12 July 2016.
" Très belle expérience "
Une semaine santé, on a redécouvert les bruits de la nature et les chants des oiseaux.
Jacques
France
travel date: 02 September 2016.
" Parcours très agréable "
Magnifique parcours, très serein, la plupart du temps très éloigné de la circulation automobile, no stress.
Didier
France
travel date: 04 August 2016.
" Superbe semaine "
Très beau voyage et très belle organisation : nous n'avons pensé qu'à pédaler et profiter ..
Jean-Yves
La Réunion
travel date: 20 August 2014.
" Bravo! "
"Nous sommes de retour à la maison après un agréable périple le long du Danube. Circuit très beau et organisation sans failles ! Bravo ! Toutes nos félicitations et encore merci."